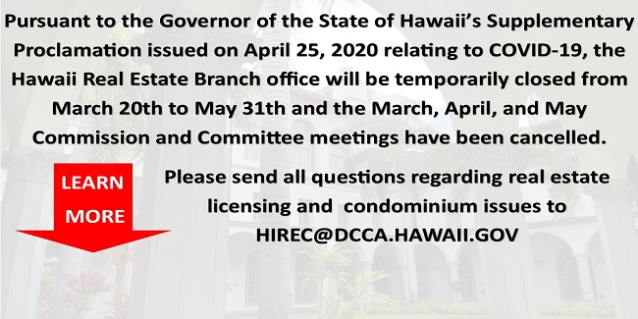 Due to COVID-19 and for the health and safety of consumers, the Department of Commerce and Consumer Affairs offices will be closed to the public through May 31st or until further notice.
During this period of office closure, no walk-in services will be available and the public is strongly encouraged to use our online services. For a full listing of online services go to http://cca.hawaii.gov/covid19.
The Real Estate Branch, as part of the Professional and Vocational Licensing Division, assists the Real Estate Commission in carrying out its responsibility for the education, licensure and discipline of real estate licensees; registration of condominium projects, condominium associations, condominium managing agents, and condominium hotel operators; and intervening in court cases involving the real estate recovery fund.
For information regarding other boards and commissions, including real estate appraisers, subdivisions, and timeshares, please visit the Professional and Vocational Licensing Division website.