Condorama!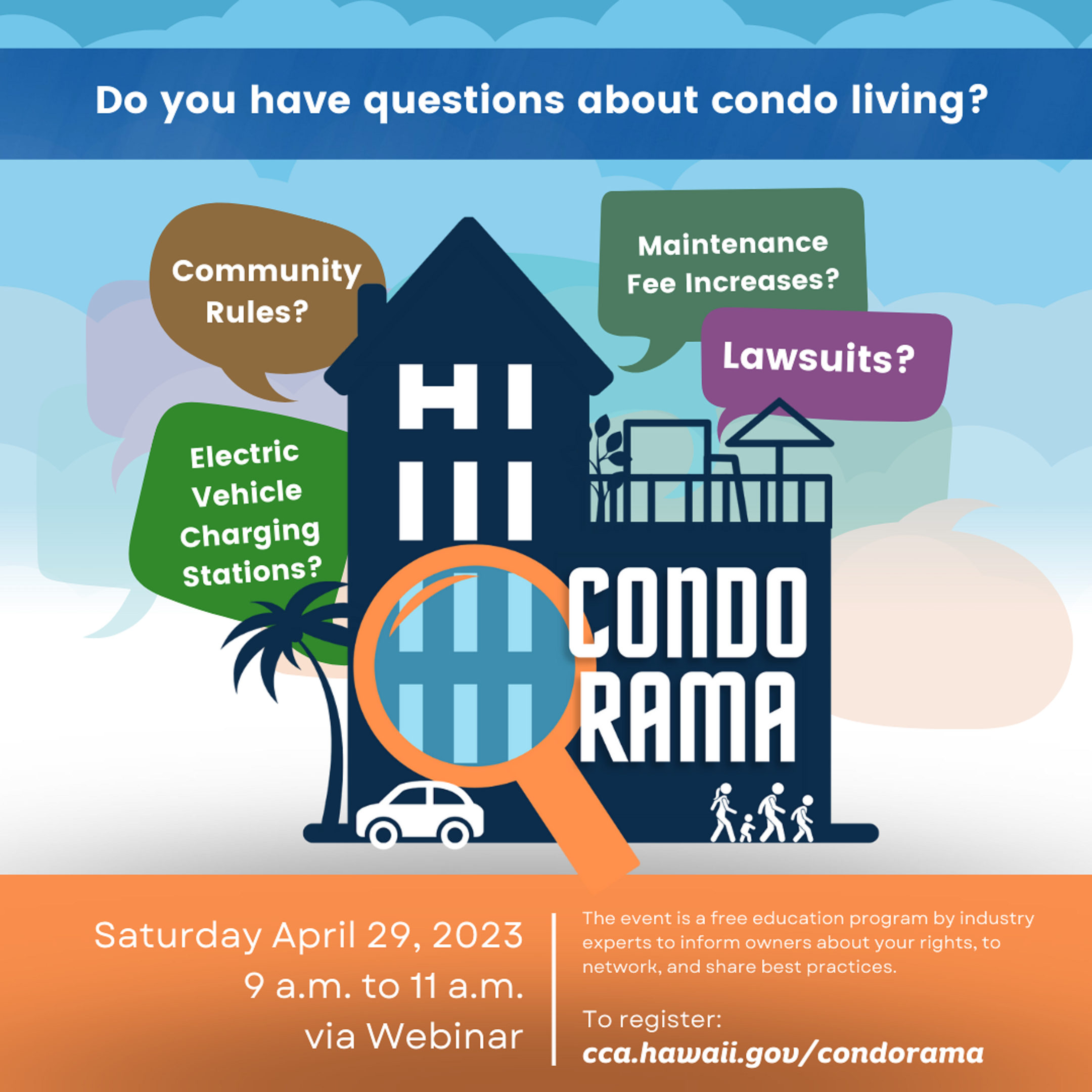 Condorama X – Saturday April 29th, 2023, 9:00 AM to 11:00 AM.
The Commission is proud to have hosted Condorama X, presented by CAI Hawaii. This free educational seminar was presented via Webinar on Saturday April 29, 2022 from 9:00 am to 11:00 am. The Commission appreciates the large turnout and interest in this event and encourages attendees to watch other condoramas and educational videos available from the Commission.
THE RECORDING OF THE WEBINAR IS AVAILABLE ON CAI HAWAII'S WEBSITE AFTER A REGISTRATION
Topics & Speakers
Joshua German – Who Got Sued and Why
Mr. German discussed the different types of suits filed against Associations, the underlying causes of suits, and measures Boards can take to reduce potential liability.
Kanani Kaopua – Why Is Your Maintenance Fee Increasing: Steps To Stop The Bleeding
Ms. Kaopua addressed the components of maintenance fee increases, including factors beyond an Association's control, e.g., utility rates, and explores proactive steps Boards can take to address them.
Melanie Oyama – Golden Rule: Rules That Make Rather Than Break A Community
Ms. Oyama focused on the fundamentals of rule-making and outlines approaches to create rules that enhance, rather than stifle, the community.
Lance Fujisaki – The Fundamentals of EV Charging Stations: The Growing Need For All Condos
Mr. Fujisaki examined the various statutory, HECO, and project document requirements for unit owners to install electric vehicle charging stations.
Printed Material
Condorama X Flyer
Condorama X Flyer #2
Handouts
Frequently Asked Question:
I missed the Webinar, can I watch this later and will there be a charge to do so?
The recording is available after the event and is free to watch after a quick registration.
Video of Condorama X & Prior Condoramas
The recording of Condorama X is on CAI's website via a free registration. Other Condorama seminars are posted to the the Hawaii Real Estate Commission's Youtube Channel or on CAI Hawaii's website.
Don't forget to sign up on our email subscription list for updates on events like Condorama!