Motor Vehicle Sales
In the State of Hawaii, both motor vehicle dealerships and salespeople who sell motor vehicles, must be licensed.
Used cars…
If you've responded to an advertisement and the seller has several cars for sale, but does not have a car lot or a showroom, you may be dealing with an unlicensed motor vehicle dealer or salesperson.  Buying from an unlicensed person may increase your risk of being unable to transfer a title. And, what may look like a great deal could actually be a previously totaled vehicle or one with a "rolled back" odometer.  While an unlicensed person may not disclose this information, a licensed dealership will provide you with a written disclosure of any material mechanical defects that are known to the dealer. Protect yourself by doing your homework and getting as much information about the car and the seller as possible, and be sure to check complaint history information with RICO, especially if the person you're dealing with doesn't have a license.
For more information, including helpful tips for consumers, see RICO's "Used Car Buying Guide" which can be found on the RICO Brochures page.
And new…
Hawaii's State Certified Arbitration Program (or "SCAP") helps consumers resolve car warranty complaints with manufacturers.  Under certain conditions, a consumer may be entitled to receive a refund or replacement for a car that does not conform to the car's warranty, substantially impairing its use, market value, or safety.
Click on the following link for more information about Hawaii's Lemon Law: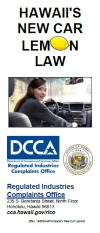 Helpful Tips About Flood-Damaged Cars:
Severe flooding in other states can  impact Hawaii consumers.  Following a disaster, flood-damaged cars may be shipped and sold in other states, far away from where the original damage occurred.  RICO offers these tips as a start for consumers to consider before purchasing a used car.
Fine tooth comb.  Go over every inch of the car.  Check hard to reach spots, like engines and trunks, for water lines, residual mud, or debris; remove the spare tire and check in the base of wheel wells; open all doors and check for corrosion where the door meets the body; use a mirror to check the undercarriage of the car and check seat springs for rust.
Listen closely.  Working electronics in cars are more important than ever before.  Listen for unexpected sounds, including a sound system (including any of the speakers) that are stat-icky or distorted.  You can even very carefully and gently bend any electrical wires under the dash to see if they're brittle.
Use your nose.  Flood damaged vehicles can smell of mold or mildew.  Experts say it can be difficult to completely get entirely get rid of the smell.  The best way to test is to sit inside for a while with the vehicle's doors and windows tightly closed.  A strong smell of cleaning chemicals or air freshener may be masking a less agreeable odor.
Run the car for a while, including the air conditioner or heater.  Headlights, taillights, and instrument panels may appear foggy if water has accumulated inside.
Ask to see title and registration.  A title or vehicle registration may be "branded."  Types of brands include "salvage," "rebuilt," or even "flood" depending on the state or local municipality the vehicle came from.  If carpeting or upholstery doesn't match the age of the car, ask why.
Consider having a licensed mechanic check the vehicle over.  Ask the mechanic to inspect brake and wheel components for silt or mud.  (The mechanic may need to remove wheels to do so.)
Do your homework.  Use the National Motor Vehicle Title Information System's online tool to check vehicle history.  And, the National Insurance Crime Bureau's Vehicle Identification Number check system or "VINcheck" at www.nicb.org/how-we-help/vincheck.   Information on these websites may not be comprehensive, but may be a good start.
Other useful links:
www.consumerreports.org/buying-a-car/beware-the-flood-of-flood-cars
www.samarins.com/check/simplecheck
www.popularmechanics.com/cars/how-to
RICO relies on information from consumers to monitor conduct in the industry and to watch for unlicensed activity. For information about filing a complaint, click on the link below or call the RICO Consumer Resource Center to speak with an intake investigator about your complaint.