Cemeteries and Pre-Need Funeral Providers
Know who you're working with.  When arranging for services, it's important to note you may be dealing with separate entities. A cemetery is a burial space, and may offer to take care of opening and closing a grave, perpetual care of the cemetery plot, markers, plaques, and other items needed for interment. A mortuary may offer to handle the funeral service, including preparation of remains, the funeral service, the casket or urn, death certificates, obituaries and notices, and other funeral items. In the State of Hawaii, a mortuary must be licensed to sell pre-need funeral services and to perform other services.
Paying in advance.  Some consumers who make arrangements in advance, may pay in advance or make arrangements for monies to be available to cover final expenses. Some companies offer final expense policies (small life insurance policies) that are designed to leave a little money behind to cover final expenses. With a pre-need insurance policy, you chose the services you want and buy a policy to cover the cost. Another option is to open a trust or savings account, and to let family members know about the money in the account and what you would like it to be used for. Some accounts can be set up to be payable on death. You can also enter into a contract with a cemetery for pre-need services. By law, a licensed cemetery authority must hold your money in trust until it is needed.
If you're considering entering into a contract for pre-need services, make sure the cemetery is licensed in Hawaii to sell pre-need services.
For more information, including helpful tips on making your wishes known, see RICO's brochure, "Planning Ahead: Information for Consumers about Funerals."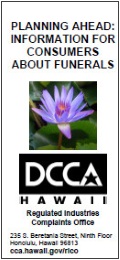 RICO relies on information from consumers to monitor conduct in the industry and to watch for unlicensed activity. For information about filing a complaint, click on the link below or call the RICO Consumer Resource Center to speak with an intake investigator about your complaint.