Emergency Preparedness
Whether it's a hurricane, tsunami, or any other natural disaster, any lead time of notice for an impending weather occurrence is critical. Here are some helpful resources on what you can do to be prepared in regards to utilities (and more) before disaster strikes.
Utility Emergency Preparedness Resources
Kauai Island Utility Cooperative's Storm Sense
Hawaiian Electric Company's Emergency Preparedness Handbook
Hawaii Gas Emergency Preparedness
Young Brothers Schedule Updates as it Relates to Natural Disasters
Disaster Preparedness Resources
Department of Commerce and Consumer Affair's Preparing for Natural Disasters
Hawaii Emergency Management Agency (HI-EMA)
City and County of Honolulu Smartphone app
City and County of Honolulu Department of Emergency Management
Central Pacific Hurricane Center website
Other Related Resources
National Association of Regulatory Utility Commissioners (NARUC): Consumers and Catastrophes Guide
Protect Yourself and Others from Electrical Hazards After a Disaster (CDC)
What You Need to Know When the Power Goes Out Unexpectedly (CDC)
Fact Sheet on Natural Disaster Recovery (OSHA/U.S. Department of Labor)
Before Giving to a Charity (FTC)
Disaster Safety
Safety tips During Power Restoration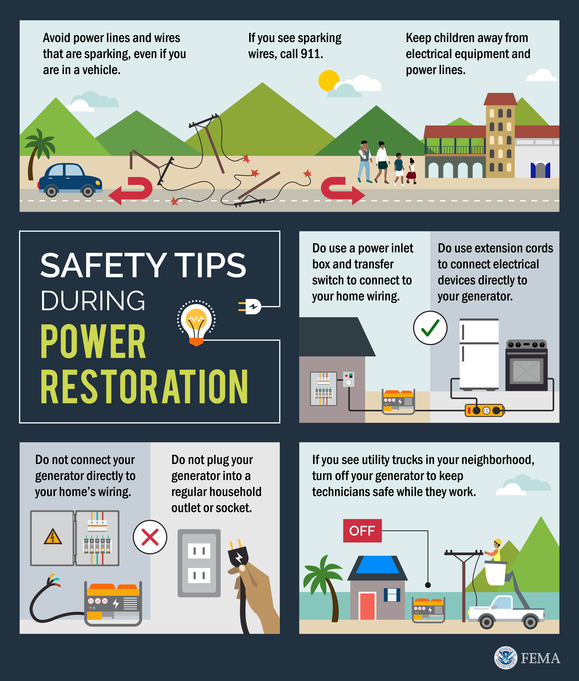 Downed Power Line Safety
Here's a few tips from the Electrical Safety Foundation International a non-profit organization dedicated exclusively to promoting electrical safety at home and in the workplace.