RELEASE: Dean Nishina Named State's Consumer Advocate
Posted on Jan 5, 2017 in News Releases
DEPARTMENT OF COMMERCE AND CONSUMER AFFAIRS
DAVID Y. IGE
GOVERNOR
CATHERINE P. AWAKUNI COLÓN
DIRECTOR
FOR IMMEDIATE RELEASE
January 5, 2017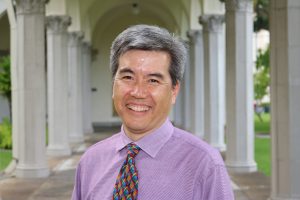 Dean Nishina Named State's Consumer Advocate
HONOLULU – Dean Nishina has been named executive director for Department of Commerce and Consumer Affair's Division of Consumer Advocacy (DCA), effective January 1. He has been serving as acting executive director since September 1, following the departure of Jeffrey Ono, who returned to private practice.
As the Consumer Advocate, Nishina will oversee the division's representation of consumer interests before the Hawaii Public Utilities Commission (PUC) and other local and federal agencies. Nishina previously served in the role from December 2009 to January 2011.
"We are extremely pleased that Dean has agreed to return as the state's Consumer Advocate," said Catherine Awakuni Colón, director of the Department of Commerce and Consumer Affairs. "He has been with the department for nearly twenty-five years, and has a wealth of experience in the area of public utilities. His depth of knowledge would truly be a benefit to protect the interests of Hawaii's consumers. "
Nishina has been recently serving as public utilities/transportation administrator for DCA, but has filled various roles of increasing responsibility within the division since 1992. Prior to that, Nishina worked as an audit and financial consulting senior for Arthur Andersen & Co, LLP, where he specialized in auditing and accounting of electric and gas utilities, government and telecommunications industries.
"I look forward to continuing to advocate on behalf of the state's consumers in this dynamic period," said Nishina. "Hawaii's energy environment has seen significant changes over recent years. Going forward, we remain committed to balancing the demands of Hawaii's energy landscape to promote renewable energies to achieve the state's goal of 100 percent clean energy by 2045."
Nishina received his undergraduate degree in economics and psychology from Northwestern University, and his M.S. degree in professional accountancy from DePaul University.
The Department of Commerce and Consumer Affairs (DCCA) also announces the following:
Craig Uyehara has been promoted to Senior Hearings Officer in the department's Office of Administrative Hearings (OAH). As Senior Hearings Officer, Uyehara will oversee the office to conduct contested case hearings involving procurement protest appeals, trade name disputes, professional licensing violations and denials, securities violations, personal injury protection insurance benefits, and Employee Retirement System retirement benefits. OAH is also responsible for the administration of the Medical Inquiry and Conciliation Panel and the Design Claims Conciliation Panel.
Dean Hazama joins DCCA as Business Management Officer. He previously served in various positions at Pearl Harbor Naval Shipyard including as Technical Director of the Pacific Fleet Technical Support Center, Logistics Officer for the Pacific Defense Information Systems Agency, and Business and Material Officer for the Defense Logistics Agency Maritime Pearl Harbor.  Hazama comes to DCCA from the State of Hawaii Department of Transportation.  He is also Chair of the Honolulu Planning Commission and the Mililani Mauka/Launani Valley Neighborhood Board.
###
Media Contact:
William Nhieu
Communications Officer
Department of Commerce and Consumer Affairs
(808) 586-7582
[email protected]
cca.hawaii.gov