March 1st-5th – National Consumer Protection Week – Virtual Consumer Fair
Posted on Feb 17, 2021 in Important Events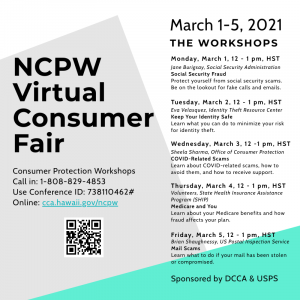 Please join us for this year's NCPW Virtual Consumer Fair! March 1-5, 12-1 pm daily. Get your workshop links at cca.hawaii.gov/ncpw
The DCCA and USPS will host a virtual workshop every day of the week, March 1-5, from 12-1 pm HST, on Teams.
Join us as fraud experts share their knowledge on how we can protect ourselves from scams in the community.
Get all the information and workshop links for the NCPW Virtual Consumer Fair at cca.hawaii.gov/ncpw
Help us get the word out! Share this flyer with your family and friends!
https://cca.hawaii.gov/dca/files/2021/02/NCPW-2021-flyer.pdf