RELEASE: 180th Anniversary of King Kalakaua's Birth Celebrated
Posted on Nov 17, 2016 in Main, News Releases
DEPARTMENT OF COMMERCE AND CONSUMER AFFAIRS
DAVID Y. IGE
GOVERNOR
CATHERINE P. AWAKUNI COLÓN
DIRECTOR
FOR IMMEDIATE RELEASE
November 16, 2016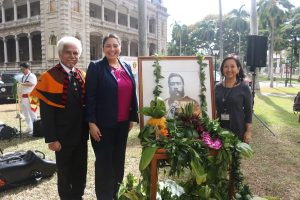 180th Anniversary of King Kalakaua's Birth Celebrated
HONOLULU – The Department of Commerce and Consumer Affairs (DCCA) today held a King's Musical Concert to celebrate the 180th anniversary of the birth of David Laamea, King Kalakaua. Held on the grounds of Iolani Palace, the event featured a Hawaiian program performed by the Royal Hawaiian Band.
Today's ceremony is one of DCCA's traditions of honoring the namesake of the department's headquarters—the King Kalakaua Building—the site of the downtown Honolulu Post Office.
His Majesty King Kalakaua ruled the Kingdom of Hawaii from February 12, 1874 until his death on January 20, 1891. During his reign, Kalakaua established Hawaii as a player on the international level and became the first King of Hawaii to visit the United States of America, where he secured the long-deferred signing of the Reciprocity Treaty of 1875. This treaty established economic prosperity for Hawaii through foreign investments and the development of Hawaii's sugar industry.
King Kalakaua notably also contributed to the growth and preservation of the Hawaiian culture. He commissioned the construction of Iolani Palace and unveiled the statue of King Kamehameha the Great, both which still stand today and serve as lasting legacies of the Kingdom. Kalakaua also wrote the lyrics to Hawaii Ponoi, now the state song of Hawaii.
"Our Department is greatly privileged to honor one of Hawaii's great leaders. King Kalakaua was a committed civil servant and truly was fundamental to the growth of Hawaii both culturally and as a nation," said Director Catherine Awakuni Colón. "I extend my appreciation to the many volunteers who came together to help put this tribute together."
The Department of Commerce and Consumer Affairs was formerly headquartered in the Princess Kamamalu Building since 1968, until relocating to the rededicated King Kalakaua Building in December 2003. Listed in the National Registry of Historic Places, the Kalakaua Building was formerly known as the U.S. Post Office, Custom House and Court Building.
# # #
About the Hawaii Department of Commerce and Consumer Affairs
The State of Hawaii Department of Commerce and Consumer Affairs promotes a strong and healthy business environment by upholding fairness and public confidence in the marketplace, and by increasing knowledge and opportunity for our businesses and citizens in the State of Hawaii. To find out more, visit our website at https://cca.hawaii.gov.
Media Contact:
William Nhieu
Communications Officer
Department of Commerce and Consumer Affairs
Phone:  (808) 586-7582
Email:  [email protected]