MOTOR VEHICLE SALES
In the State of Hawaii, both motor vehicle dealerships and salespeople who sell motor vehicles, must be licensed.
Used cars…
If you've responded to an advertisement and the seller has several cars for sale, but does not have a car lot or a showroom, you may be dealing with an unlicensed motor vehicle dealer or salesperson.  Buying from an unlicensed person may increase your risk of being unable to transfer a title. And, what may look like a great deal could actually be a previously totaled vehicle or one with a "rolled back" odometer.  While an unlicensed person may not disclose this information, a licensed dealership will provide you with a written disclosure of any material mechanical defects that are known to the dealer. Protect yourself by doing your homework and getting as much information about the car and the seller as possible, and be sure to check complaint history information with RICO, especially if the person you're dealing with doesn't have a license.
For more information, including helpful tips for consumers, see RICO's "Used Car Buying Guide" which can be found on the RICO Brochures page.
And new…
Hawaii's State Certified Arbitration Program (or "SCAP") helps consumers resolve car warranty complaints with manufacturers.  Under certain conditions, a consumer may be entitled to receive a refund or replacement for a car that does not conform to the car's warranty, substantially impairing its use, market value, or safety.
Click on the following link for more information about Hawaii's Lemon Law: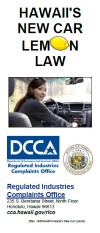 RICO relies on information from consumers to monitor conduct in the industry and to watch for unlicensed activity. For information about filing a complaint, click on the link below or call the RICO Consumer Resource Center to speak with an intake investigator about your complaint.