Understanding Flood Insurance
Posted on Aug 28, 2019 in Slider
Flooding is the most frequent and expensive natural disaster in the United States. Yet, flood peril is not typically covered through most homeowners and renter's insurance policies.
Everyone lives in a flood zone. If it rains, it can flood. Your risk is real!
What Are My Flood Risks?
With more than 20 percent of the National Flood Insurance Program's (NFIP) claims coming from outside high-risk flood areas those who live in areas with low-to-moderate flooding risk should understand their risk and consider flood insurance. The State of Hawaii Department of Land and Natural Resources Engineering Division maintains a Flood Hazard Assessment Tool (FHAT) that allows you to determine your flood risk. Risk levels are divided into three categories:
High-risk areas have at least a 1 percent chance of flooding each year. Homeowners in these areas with mortgages from federally regulated or insured lenders are required to buy flood insurance.
Moderate to low-risk areas have less than a 1 percent chance of flooding each year, but there is still a possibility the area could flood. Flood coverage isn't required in these areas, but it is recommended. Some mortgage lenders still require you to have flood insurance in non-high-risk areas.
Undetermined risk areas are areas where flood-hazard analysis has yet to be conducted, but risk still exists.
Protect Your Home and Business
Flood insurance is a separate coverage that you can purchase through the National Flood Insurance Program (NFIP), which FEMA manages, or sometimes through a private insurer. Your agent may be able to assist you with an NFIP policy or a policy from a private insurer. For more about purchasing an NFIP policy, contact the NFIP Referral Call Center at 1-800-427-4661. For more information about private insurers writing flood coverage in your state, contact your department of insurance.
If you choose a private flood insurance policy, shop around and compare coverage and premiums before you decide which policy to buy. Be sure to ask about the waiting period. NFIP and some private flood policies have a 30-day waiting period unless a policy is bought at the same time as a newly purchased home.
Know Your Flood Policies
The NFIP standard flood insurance policy pays for direct physical damage to your insured property up to the replacement cost or actual cash value (ACV) of actual damages, or the policy limits of coverage, whichever is less.
Test your knowledge. See if you have what it takes to protect your home from flood.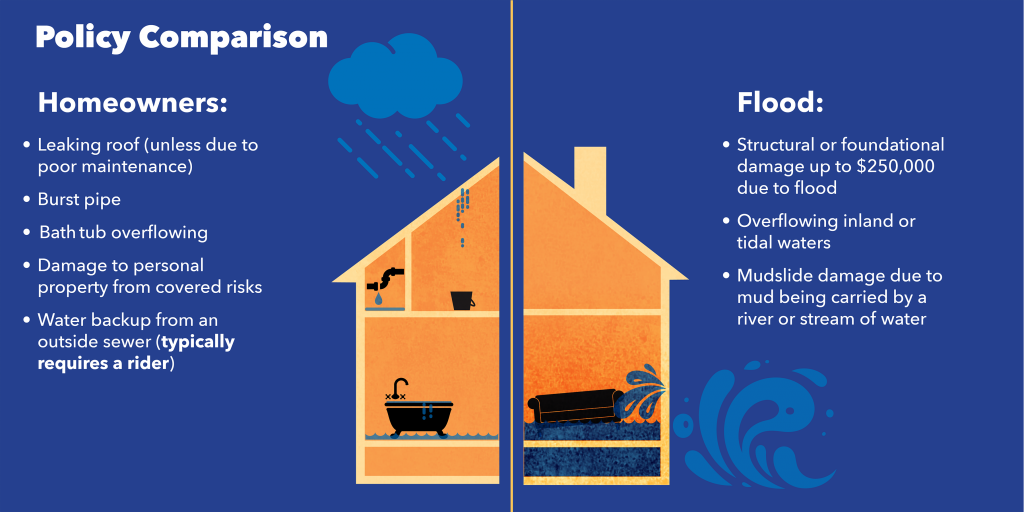 Homeowners Structure: NFIP policies cover up to $250,000 of flood damage to a home's structure, including:
Damage to the furnace, water heater, air conditioner and floor surfaces (carpeting and tile)
Debris removal and clean up
Coverage for basements, crawlspaces and ground level enclosures on an elevated home is limited, so talk to your agent about any restrictions in the policy
Homeowners Content: Personal property inside your home is not covered under the Building Property coverage form. However, coverage is available up to $100,000 for an additional premium.
Clothes, washer and dryer
Television and furniture
Other personal belongings
Business Owners: Personal property is not covered under Building Property policy form. However, coverage is available for up to $500,000 and an additional premium.
Private insurers may have higher limits or broader coverage than NFIP policies. Work with your agent in understanding a private policy and comparing it to an NFIP policy.
For more information, please visit:
State of Hawaii Department of Land and Natural Resources Engineering Division
National Flood Insurance Program