Brochures and Other Information
RICO provides a number of consumer brochures about the licensed professions it oversees. These brochures are for informational purposes only and not intended to provide legal advice. All information is subject to change. Additional information may be available directly from boards, commissions, and programs.
Acrobat Reader is required to download these files. Printed copies are available by calling 587-4272. Contact the RICO Complaints and Enforcement Officer at 586-2666 for information in Braille, large print, or audio tape.
GENERAL INFORMATION
INFORMATION FOR SENIORS
ACTIVITY DESKS & ACTIVITY PROVIDERS
BARBERING & COSMETOLOGY
CEMETERY & FUNERAL TRUSTS
COLLECTION AGENCIES
CONDOMINIUM MANAGEMENT & GOVERNANCE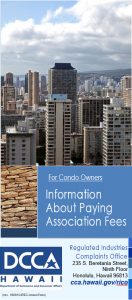 CONTRACTORS
ELECTRICIANS & PLUMBERS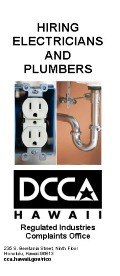 MASSAGE THERAPY
MOTOR VEHICLES (BUYING)
MOTOR VEHICLE REPAIRS
PEST CONTROL
PRIVATE DETECTIVES & GUARDS
REAL ESTATE
TIME SHARE
TRAVEL AGENCIES
OTHER USEFUL TOPICS