Hawaii's Lemon Law
The State Certified Arbitration Program (SCAP), commonly referred to as Hawaii's "Lemon Law", is administered by the Department of Commerce and Consumer Affairs' Regulated Industries Complaints Office (RICO).
Hawaii's "Lemon Law" helps consumers who have problems getting their new motor vehicle (cars and motorcycles) repaired under a manufacturer's warranty. Through the program, a consumer may be awarded a refund or a replacement if their motor vehicle is determined to be a "lemon".
Click here to see a short, informational video about the Lemon Law process: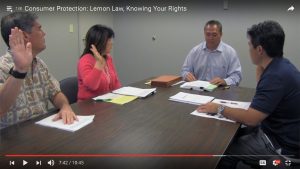 While each year only a small percentage of cars sold in the State are declared lemons, all new car buyers benefit from the program which creates incentives for manufacturers to deliver cars that are free from defect and to address on-going problems through efficient repair and voluntary recall.
Information from the Federal Trade Commission about buying and owning a car
For more information about filing a Demand for Arbitration,
call the RICO Consumer Resource Center at 808-587-4272
or email us at [email protected].
Stacia M. Silva, SCAP Case Administrator
235 S. Beretania Street, 9th Floor
Honolulu, Hawaii  96813
Phone: (808)586-2660
Fax: (808) 586-2670