LifeSmarts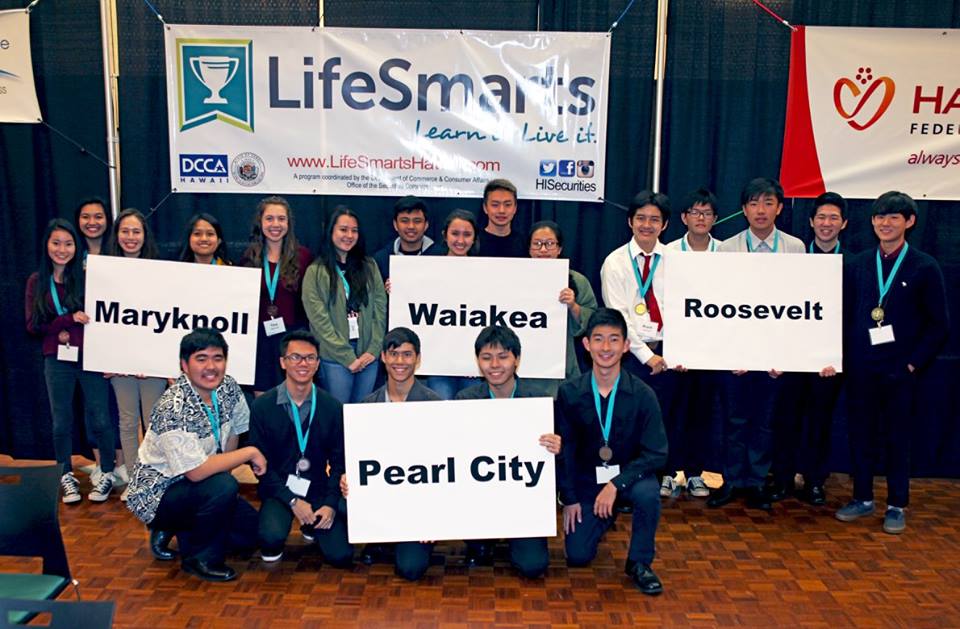 Welcome to the State of Hawaii LifeSmarts Competition
LifeSmarts, the Ultimate Consumer Challenge, is a FREE consumer education competition open to teens in grades 6-12.  The competition tests students on their knowledge of
Personal Finance 
Health and Safety
Environment
Technology
Consumer Rights and Responsibilities 
Take a practice quiz and see if you're ready for the ultimate consumer challenge.  Gather your friends and form a team.  Each team needs an adult sponsor or coach.
Public, private, home, charter and alternative schools, statewide, are welcome to register as well as clubs and youth organizations.  Schools may enter more than one coach and coaches may enter more than one team.  So hurry and get your team signed up!
High School Competition (grades 9-12) Online Competition
Registration opens Tuesday, August 1, 2017
Online Competition closes Friday, December 1, 2017
Scores will be tabulated and the highest scoring teams will be invited to the in-person State Competition, which will be held in Honolulu on Saturday, February 3, 2018.  The winning team at the State Competition will represent Hawaii at the National Competition in San Diego, CA from April 21-24, 2018.
Middle School Competition (grades 6-8) Online Competition Only
Registration opens Tuesday, August 1, 2017
Online Competition closes Wednesday, January 31, 2018
Students in grades 6-8 will compete only online.  National winners will be announced online after the competition closes.
LifeSmarts is run by the National Consumers League and brought to you by the Department of Commerce and Consumer Affairs, Office of the Securities Commissioner in partnership with the Hawaii Credit Union League.
Contact the LifeSmarts State Coordinator, Theresa Kong Kee at 587-7400 or tkongkee@dcca.hawaii.gov for more information.
Good Luck as you take the Ultimate Consumer Challenge.