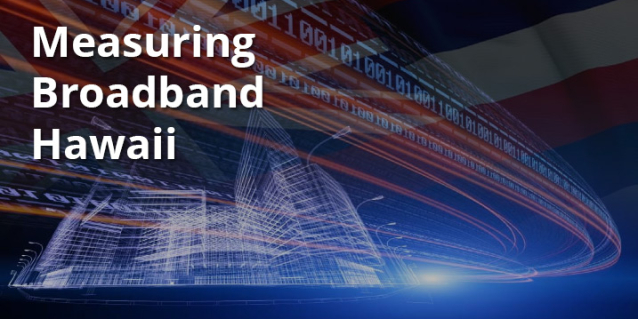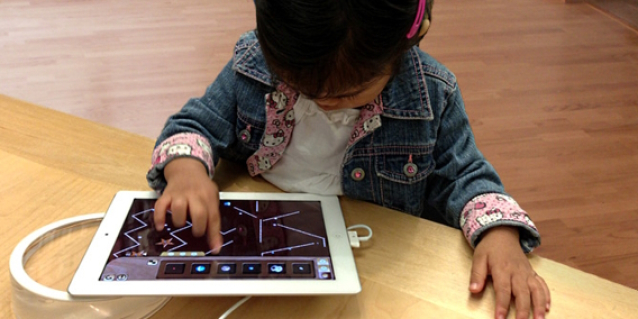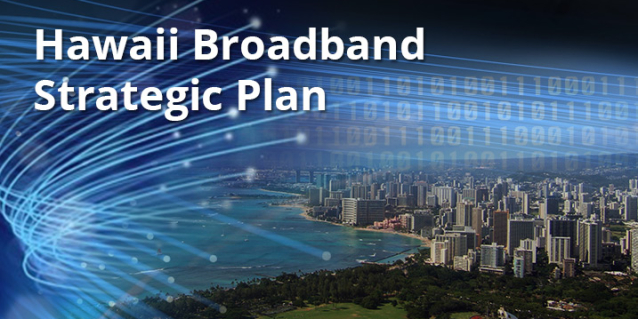 Welcome
Welcome to the Cable Television Division broadband page!
The Cable Television Division works to support and facilitate public and private efforts to increase access to affordable broadband and internet access services across the State, and to bolster use and demand for broadband level communications.
---
Measuring Broadband Hawaii

Want to know your home Internet speed? 
Sign up to be a volunteer for the DCCA Measuring Broadband Hawaii (MBH) Program!
You will receive:
A free device called a "Whitebox" that plugs into your cable or DSL modem to measure the speed and quality of your home Internet connection. (No tests are run when you are on the Internet, and your personal browser information is not collected.)
Free monthly reports and access to your test data. (DCCA is given access to performance data, but without any personal user identification.)
The MBH program is affiliated with the Federal Communications Commission (FCC) program "Measuring Broadband America."
Click here for more information and a link to the sign‑up form.
---
Other Ways to Measure Your Internet Speed
Speedtest.net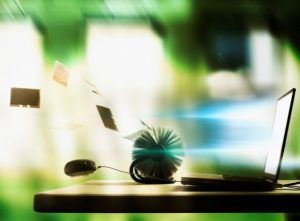 (Note:  Any reference to non-State of Hawaii services does not constitute or imply an endorsement by the State of Hawaii.)
One commonly used third-party speed test that is fast and easy to use is offered by Ookla, a private company that provides broadband speed testing and related services to businesses and governments around the world.  This speed test allows you to measure your Internet connection speed from your home to various local test servers as well as to test servers outside of the State of Hawaii.
To access the speed test, go to:  http://www.speedtest.net/
Take the test a number of times and at different times of the day.  There are many factors that may affect your speed, such as whether you are connecting through a wired or wireless connection and how many users are connecting at the same time.  See "Ways to Improve Your Home Internet Performance" below for tips that may help to maximize your home Internet performance.
You may notice different results when using other speed tests available online.  There are many factors that may cause these different results, such as different test methods and equipment.  For example, a speed test tool not offered by your provider may be measuring your speed to a server outside of your provider's network and outside of the State of Hawaii.
Provider Speed Tests
Each of the State's two major wireline Internet service providers (ISPs) have speed test tools available on their respective websites.  The speed test tools measure the upload and download speeds of your Internet connection from your home to your ISP's test server that is located in the State of Hawaii.  These speed tests thus measure the speed within your ISPs network.
If your speed test results show speeds that are not consistent with the advertised speed for your subscribed service:
Try taking the test at a time when no other devices in your home are online because your delivered bandwidth is shared among all users in your home
Try the "Ways to Improve Your Home Internet Performance" tips below
Contact your ISP directly to resolve possible issues
If you are unable to resolve an Internet service problem with your ISP, you may file a complaint with the Federal Communications Commission (FCC) in the following ways:
By phone: 1-888-CALL-FCC (1-888-225-5322); TTY: 1-888-TELL-FCC (1-888-835-5322); ASL Videophone: 1-844-432-2275
By mail (include your name, address, contact information and as much detail about your complaint as possible) to:
Federal Communications Commission
Consumer and Governmental Affairs Bureau
Consumer Inquiries and Complaints Division
445 12th Street, S.W.
Washington, DC 20554
---
Ways to Improve Your Home Internet Performance
Tips that may help to improve your home Internet performance:
If possible, switch your device from a wireless connection (over WiFi) to a wired connection — your wired connection will generally be faster than your home WiFi connection
Reduce the number of devices connected to your home network at the same time
Check to see if your Internet modem needs to be upgraded to support your subscribed speed or if it needs trouble shooting
Reboot your Internet modem and/or WiFi router
Check to see if your operating system or browser needs upgrading or trouble shooting
Check to see if the device you are using (e.g., laptop, desktop PC, gaming PC, tablet, etc.), has a maximum Internet speed that is less than your subscribed speed — if it does, such as an older computer with a slower processor and less memory (RAM), your speed may be limited by your device and not the speed of the Internet service
Close programs running in the background that are not being used
Check for "adware", "spyware", or "malware" on your computer
Visit your ISP's website for more information on improving your home Internet experience
Tips that may help to improve your Home WiFi performance:
Check that your WiFi router or network card is capable of handling the speed of your service — you may need to upgrade your router or network card
If possible, place your WiFi router in a location closer to where the WiFi will be used
Provide a clear path from the WiFi router to your devices — don't place it behind furniture, low to the ground, or next to windows
Reboot your WiFi router
Visit your ISP's website for more tips to improve your home WiFi performance
---
Act 23
Act 23, Session Laws of Hawaii 2016, includes the Director of the Department of Business, Economic Development, and Tourism as a permanent member on the Broadband Assistance Advisory Council; ensures that a member from each county is represented through appointment on the council; and authorizes the DCCA Director as chair of the council to designate representatives of other interested public and private sector organizations to serve as members of the council or its work groups on an ad hoc basis as needed.
---
Act 151 and Act 264
DCCA filed a report to the 2016 Hawaii State Legislature on Act 151, Session Laws of Hawaii 2011, which required DCCA to:
Review the state of broadband communications in Hawaii and the permitting exemptions granted pursuant to Act 151; and
Make a recommendation on whether to extend certain exemptions from county and state permitting and approval requirements provided by Act 151.
The State of Broadband Communications in Hawaii section included best estimates for broadband access and adoption in the State.
Click here to access the report.
Act 151 was amended by Act 193, which was signed into law on July 1, 2016.  Act 193 makes permanent the permitting exemption provisions of Act 151 (as amended by Act 264, Session Laws of Hawaii 2013) and the provisions of Act 264.  Act 264 requires the State and the counties to take action within 60 days for broadband-related permit applications, and requires the State to take action within 145 days for use applications for broadband facilities within the conservation district.
---
Report on House Concurrent Resolution 189
DCCA filed a report to the 2016 Hawaii State Legislature for House Concurrent Resolution 189 (28th Leg. 2015) (HCR 189).  HCR 189 requested information on broadband planning activities by the Broadband Assistance Advisory Council and additional representatives from the Department of Business, Economic Development & Tourism; the Hawaii Tourism Authority; the Department of Budget and Finance; each of the Mayor's offices for the counties; a representative of the Hawaii hotel industry; and Hawaiian Electric Company.  In particular, HCR 189 focused on broadband and WiFi access in the identified resort areas of Hanalei, Kauai; Waikiki, Oahu; Kaanapali, Maui; and Kohala, Hawaii.
Click here to access the report.
(Note: Appendix 2 of the report contains a Broadband Assessment for the resort areas identified in HCR 189.)
---
Rural Communications Technology Comparison Report — Wireless Technologies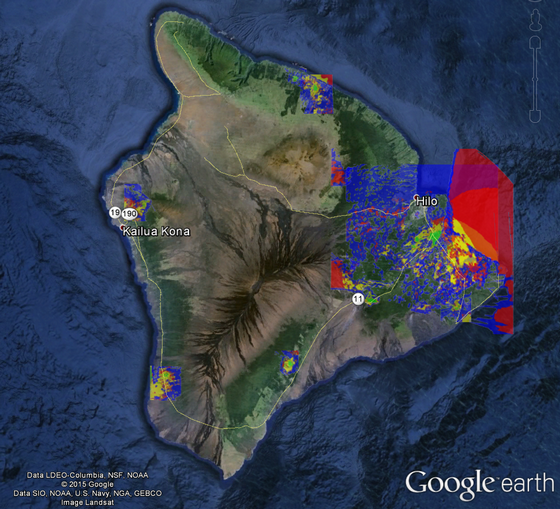 This report results from a joint project of DCCA and the County of Hawaii, Department of Information Technology, to examine the potential use of several wireless technologies to extend broadband service to rural areas on Hawaii Island where wireline internet connectivity is not available. It is intended to serve as resource for potential providers and other stakeholders looking at ways to address internet service gaps in similarly situated, unserved areas on Hawaii Island and across the State.
The Report provides: (1) an overview comparison of three wireless technologies; (2) computer coverage predictions for these technologies from eight base station locations on Hawaii Island, which were selected because the surrounding areas presented different terrain challenges and tree densities; and (3) engineering test data for two of the wireless technologies, which shows the actual performance of these technologies both in terms of the strength of the technology link and the end user experience.
Please feel free to contact the DCCA Cable Television Division with any questions regarding this project and Report.
---