Lemon Law – Information for Manufacturers
The State Certified Arbitration Program (SCAP) administers the Hawaii Lemon Law and provides resolution tips for consumers, which are designed to not only notify the manufacturer of a potential claim, but to encourage manufacturers to work with a potential consumer. As part of the complaint filing process, consumers are encouraged to try to resolve problems before filing a demand for arbitration. Even after a demand for arbitration is received, a manufacturer may continue to work with a consumer if the manufacturer believes a dispute can be resolved.
The Regulated Industries Complaints Office (RICO), which oversees the SCAP Program, estimates in FY 2016, an estimated 6,431 matters were resolved (in all of the areas RICO oversees) without a formal complaint being filed.
Click here to download a copy of the Lemon Law Handbook for Motor Vehicle Manufacturers.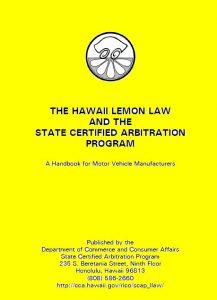 Additional forms are available here:
Consumer Rights Form for Manufacturers and Dealers (PDF) – Hawaii law requires manufacturers and dealers provide information to consumers about their rights under Hawaii's Lemon Law.
Manufacturer's Statement (PDF) –  Manufacturers must complete this statement within 10 days after receiving a consumer's Demand for Arbitration. For more information about what is required under Hawaii's Lemon Law, manufacturers should refer to the Handbook for Motor Vehicle Manufacturers.
Additional information: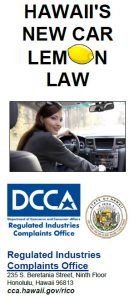 Hawaii's New Car Lemon Law brochure (PDF)
Hawaii's Used Car  Warranty Law (PDF)
Hawaii's Lemon Law and administrative rules: 
Hawaii Revised Statutes Chapter 481I (PDF)