Lemon Law – Information for Consumers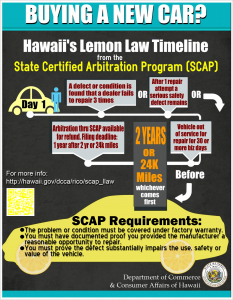 Nothing can be more disappointing for a consumer than a new car (or motorcycle) that doesn't work as warranted.
The State Certified Arbitration Program (or "SCAP") provides an arbitration forum for consumers to resolve car warranty complaints with manufacturers.  Under certain conditions, a consumer may be entitled to receive a refund or replacement for a car that has a nonconformity.  A nonconformity is a defect or condition that does not conform to the car's warranty and that substantially impairs the use, market value, or safety of the car.
Consumers are counseled to first carefully read the Lemon Law Consumer Handbook, in its entirety, and then write to the manufacturer.  If unable to reach a resolution, a consumer can file a Demand for Arbitration.  The program will then evaluate the Demand to see if the vehicle is eligible for arbitration.  If eligible, the program will initiate a case and an abitration hearing will be scheduled.
As part of the complaint filing process, consumers are encouraged to try to resolve problems before filing a demand for arbitration. Even after a demand for arbitration is received, a manufacturer may continue to work with a consumer if the manufacturer believes a dispute can be resolved.
Click here to download the Lemon Law Consumer Handbook:

Additional consumer forms are available here:
Letter to Manufacturer (PDF) – Notify the manufacturer in writing about the nonconformity during the period of the warranty and within two years after original delivery of the car to a consumer or within the first 24,000 miles of operation, whichever occurs first (this is called the Lemon Law Rights Period).
Demand For Arbitration (PDF) – File a demand for arbitration with the State Certified Arbitration Program (SCAP) within one year after the Lemon Law Rights Period has expired and pay the $50 filing fee. Remember, this is a self-help program and you must prepare and present your evidence to a neutral arbitrator yourself.
Election of Consumer (PDF) –  The arbitrator's decision can be binding or non-binding.  If you elect binding arbitration, the arbitrator's decision can't be appealed. More information about the differences between binding and non-binding arbitration is available in the Lemon Law Consumer Handbook.
More information and helpful tips for consumers: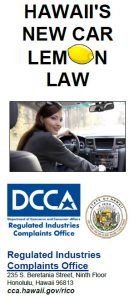 Hawaii's New Car Lemon Law brochure (PDF)
Hawaii's Used Car  Warranty Law (PDF)
Timeline of Service to Vehicle Chart (PDF) – Use this chart to document required repair attempts.
Consumer Worksheet To Determine Award (PDF) – Use this worksheet to calculate what an arbitrator may award.
Hawaii's Lemon Law and administrative rules: 
Hawaii Revised Statutes Chapter 481I (PDF)
Hawaii Administrative Rules Chapter 181 (PDF)