Lemon Law – Information for Consumers
It can be so disappointing when your expensive brand new motor vehicle does not work as it should.  To help you understand your rights and options, carefully review the Lemon Law Handbook for Consumers below
Click here to download the Lemon Law Consumer Handbook:

Checklist for filing a claim
Additional consumer fillable forms are available here:
Letter to Manufacturer (PDF) – Notify the manufacturer in writing about the nonconformity during the period of the warranty and within two years after original delivery of the car to a consumer or within the first 24,000 miles of operation, whichever occurs first (this is called the Lemon Law Rights Period).
Demand For Arbitration (PDF) – File a demand for arbitration with the State Certified Arbitration Program (SCAP) within one year after the Lemon Law Rights Period has expired and pay the $50 filing fee. Remember, this is a self-help program and you must prepare and present your evidence to a neutral arbitrator yourself.
Election of Consumer (PDF) –  The arbitrator's decision can be binding or non-binding.  If you elect binding arbitration, the arbitrator's decision can't be appealed. More information about the differences between binding and non-binding arbitration is available in the Lemon Law Consumer Handbook.
More information and helpful tips for consumers: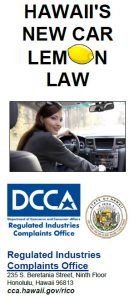 Hawaii's New Car Lemon Law brochure (PDF)
Hawaii's Used Car  Warranty Law (PDF)
Timeline of Service to Vehicle Chart (PDF) – Use this chart to document required repair attempts.
Consumer Worksheet To Determine Award (PDF) – Use this worksheet to calculate what an arbitrator may award.
Hawaii's Lemon Law and administrative rules: 
Hawaii Revised Statutes Chapter 481I (PDF)
Hawaii Administrative Rules Chapter 181 (PDF)