Federal Broadband Deployment Resources
Federal Communications Commission
The Federal Communications Commission (FCC) is the federal agency responsible for monitoring, implementing, and enforcing the nation's communications law and regulations. The FCC also promotes competition and investment in broadband services and facilities, including administration of the Universal Service Fund, a system of telecommunications subsidies and fees intended to promote universal access to telecommunications services nationwide.
Connect America Fund
The FCC's Connect America Fund (CAF), a program of the Universal Service Fund, provides funding to expand access to broadband services in high-cost areas. Under Phase II of the CAF program, Hawaiian Telcom received approximately $26 million to service 11,081 locations with a minimum of 10 megabits per second download and 1 megabit per second upload (10/1 Mbps). These locations were primarily on Hawaii Island with a deployment schedule of 2015 to 2020.
You may access the map above at: https://data.usac.org/publicreports/caf-map/ to view more information on eligible areas and locations deployed.
Connect America Fund Auction
The FCC awarded approximately $18.2 million to Hawaiian Telcom to deploy connections to over 3,900 locations in rural Hawaii over the next 10 years. Minimum speeds will be 1 gigabit per second download and 500 megabits per second upload (1Gbps/500Mbps). Below is a listing of CAF Phase II Auction funding and location commitments by county:
| | | |
| --- | --- | --- |
| County | # of Locations | Support Obligation |
| Hawaii | 2,117 | $10,228,092.50 |
| Honolulu | 369 | $1,117,553.30 |
| Kauai | 672 | $2,154,264.70 |
| Maui | 778 | $4,660,728.30 |
FCC Press Release (PDF)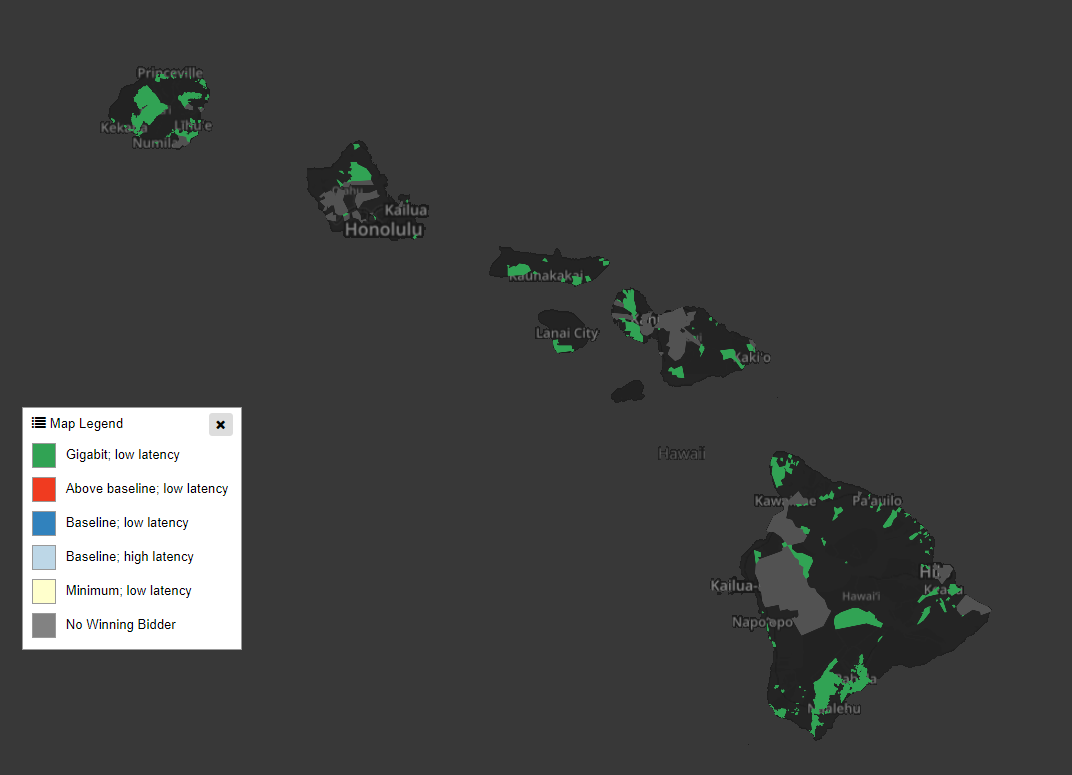 You may access the map above at: https://www.fcc.gov/reports-research/maps/caf-ii-auction-results-april-2019/ and click on the award area to identify the census block and number of locations to be served.
FCC Deployment Data Resources
The FCC collects and publishes data and reports on broadband availability across the nation based upon deployment data reported by facilities-based providers of broadband service on its Form 477.
Two FCC resources that rely primarily upon the Form 477 deployment data are the FCC's (1) annual broadband deployment reports; and (2) broadband deployment maps. The broadband deployment reports and maps include availability data for Hawaii, as noted or linked to below.
Note: The Form 477 data is reported at the census block level, not the household level, and a whole census block is classified as served if the Form 477 data indicates that service is being provided anywhere in the block. Thus, the Form 477 data may overstate the deployment of services. The Form 477 data may also overstate or understate the deployment of services to the extent that broadband providers fail to report data or misreport data.
National Telecommunications and
Information Administration
Below are resources of BroadbandUSA, a program of the U.S. Department of Commerce's National Telecommunications and Information Administration (NTIA), whose focus includes expanding Internet access and adoption and ensuring that the internet remains an engine for continued innovation and economic growth.
Funding
Access a complete guide of federal funding programs or search funding opportunities by agency, program purpose, or eligible recipients at: https://broadbandusa.ntia.doc.gov/new-fund-search.
Publications
Access toolkits and guides to assist communities' and stakeholders' efforts to expand broadband access and use and to promote digital literacy and inclusion at:
https://broadbandusa.ntia.doc.gov/ntia-resources/publications.
Webinar Archive
BroadbandUSA presents Practical Broadband Conversations webinars on topics of interest to policymakers, decision-makers, practitioners, and consumers. Access an archive of these webinars at: https://broadbandusa.ntia.doc.gov/ntia-resources/webinars-archives.
(Access information on and register for upcoming webinars at: https://broadbandusa.ntia.doc.gov/event).
News
BroadbandUSA issues a monthly newsletter with broadband news and updates, including funding opportunities, which may be accessed at:
https://broadbandusa.ntia.doc.gov/news.